V dalším ligovém kole zůstalo vše při starém. V domácím prostředí se po optické stránce dobře prezentovali chachaři, sešívaným byla tato možnost upřena díky zamknutí celého stadiónu za nedávné události. Zajímavou prezentaci si v domácím prostředí připravili liberečtí kotelníci. V hostujícím sektoru na sebe v dobrém světle ukázali klokani v pražském derby na Letné, naopak však po výjezdové stránce vyhořelo Slovácko v Liberci. U našich severních sousedů v Polsku zmapujeme dvě kola odehraná v minulém týdnu, ve kterých vládl zejména úplně někdo jiný než fanoušci. Výsledkem jsou zamknuté sektory pro hosty do konce sezóny a na některé zápasy i celé stadióny.
Opět vyzýváme fanoušky ostatních klubů, kteří by chtěli v přehledu lépe prezentovat svůj klub(případně kluby které zde nebyli zmíněny), nechť zašlou popisy z jednotlivých utkání na e-mail: pohlednatribuny@gmail.com
---
AC Sparta Praha – Bohemians 1905
Diváci: 10.023
Sparťanský kotel předvedl již tradičně jen průměrný support doplněný menším množstvím pyrotechniky.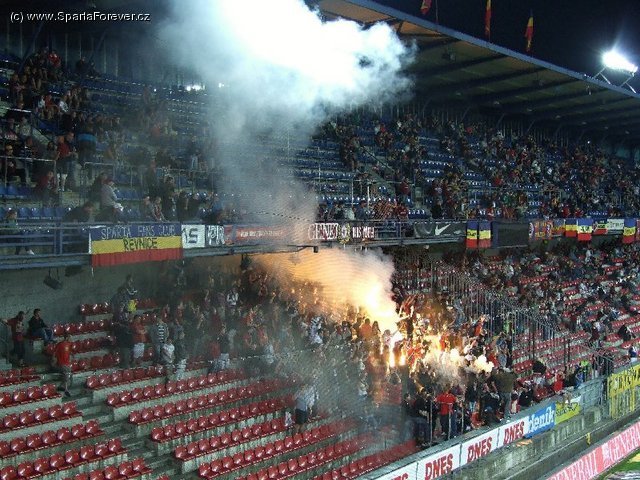 V sektoru pro hostující fanoušky se sešla asi tisícovka příznivců vršovického týmu, z toho okolo dvou stovek se jich na zápas vydalo pochodem z centra města. V průběhu zápasu se kromě dobrého dopingu prezentovali dvěma choreografiemi: nejprve roztaženou plachtou s nápisem "Bohemians lepší než práce" a poté igelity v klubových barvách a sektorovkou v podobě dresu.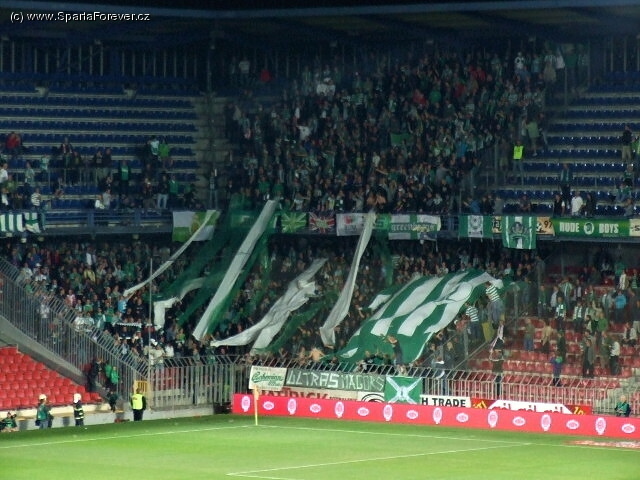 FC Slovan Liberec-1. FC Slovácko
Diváci: 4.542
Liberečtí Supras se v úvodu utkání prezentovali obouručkami a několika normálními vlajkami na tyčích. Na plotě kromě tradičních vlajek visel i nápis "SAVE FAN CULTURE", čímž se zapojili do celoevropské akce za záchranu fanouškovské kultury pořádané největší evropskou nezávislou fanouškovskou organizací Football Supporters Europe (více info zde).
Na začátku druhého poločasu byly roztaženy nápisy proti zákazu pyrotechniky ve čtyřech variacích a a boční plot sektoru ozdobil nápis "Legalizujte pyrotechniku". Na konci zápasu bylo odpálena desítka červených ohňů. Fandění bylo pouze po celé utkání na průměrné úrovni.
Pyrotechnika není zločin!
Pyrotechnika držená v ruce není zločin!
Pyrotechnika házená na hřiště je blbost!
Pyrotechnika házená po lidech je zločin!
Ze Slovácka přijeli jen 3 fanoušci bez vlajek.
FC Baník Ostrava – FK Ústí nad Labem
Diváci: 2.890
Na tomto zápase si odbyla svou premiéru vlajka fanoušků Baníku z městské části Ostrava-Jih.
Během utkání chachaři roztahují chorea adresované ostravskému primátorovi. Nápisy "Petr Kajnar není náš primátor" a racemi prosvícený "Primátor je lhář". Další choreo bylo věnováno tradičnímu mediálnímu šílenství před výjezdy Baníku.
Petr Kajnar není náš primátor!
Následovala ještě pozvánka na výjezd do Plzně, kam chachaři hodlají vyjet oděni v bílých barvách.
SK Sigma Olomouc – FC Hradec Králové
Diváci: 3.021
V domácím kotli bylo aktivních pouze asi 20 hanáků, kteří předvedli jen podprůměrný support.
"Votroků" dorazilo přibližně 65 a ani jejich support nebyl na nějaké vysoké úrovni.
FK Teplice – FC Viktoria Plzeň
Diváci: 4.750
Viktorku dorazilo podpořit okolo pěti stovek příznivců, kteří nadprůměrný doping doplnili o červené a modré balónky.
Polsko
26. kolo
Zagłębie Lubin 0-1 Śląsk Wrocław
Domácí na slezské derby přichystali choreografii složenou z vlajek na tyčích v klubové trikolóře a pruhované sektorovky, kterou později nahradily pásy látky tvořící titulní stránku novin s nápisem "Kibole odpalają race". Titulek novin byl doplněn postavou fanouška, v průběhu prezentace nechybí ani odpálené červené ohně. V průběhu zápasu se nesl stadionem kvalitní support.
Fanoušků Śląsku dojelo do hostujícího sektoru 1189 kusů. Své kvalitní fandění podpořili o pyrotechniku a velkou sektorovku "Fanatycy z całego Śląska stolicy", rovněž doplněnou pyrotechnikou. Část odpálených ohňů poté končí na hrací ploše.
Wisła Kraków - Lech Poznań
Příznivcům bílé hvězdy byla klubem zakázána choregrafie namířená proti současným represím vůči fanouškům v Polsku. To mělo za následek nevyvěšení vlajek a nebyl produkován žádny organizovaný support.
Sektor hostí je na Wisle pořád nedostupný.
Korona Kielce - Lechia Gdańsk
Rovněž na tomto zápase byla vedením klubu domácím ultras zmařena snaha prezentovat svou choreografii. Po promlčeném zápase odcházejí domácí o 10 minut dříve a fandí pod tribunou.
Widzew Łódź - GKS Bełchatów
I fanoušci Widzewu se přidali k polským protestům(opuštění sektoru v průběhu zápasu) a na pustých tribunách nechali pouze viset transparenty: "Miała być Irlandia, mamy Białoruś", "Trybuna pusta na wniosek Tuska". K vidění byla i velká, ale ne příliš čitelná sektorovka se sloganem "To nie kwestia budżetu, to nie kwestia ujęcia, to kwestia tego ile w to wkładamy serca". Slogan ještě doplnily znaky klubu a ultras, mezi kterými byl fanoušek RTS.
V den zápasu se hosté dozvěděli o uzamčení sektoru.
Arka Gdynia - Ruch Chorzów
Arkowci předvedli v průběhu zápasu sektorovku "Śledzie". Jako na drtivé většině polských stadiónů i oni pouštějí na protest tribuny. Po sléze jsou vytaženy i tématické transparenty: "Ceny wysokie, chujnia z drogami, lecz najważniejsza walka z kibolami", "Kary za mówienie prawdy, tak w Polsce wygląda wolność słowa", "Zamknijcie stadiony na Euro", "Zwalczyliście dopalacze, z kibolami nie wygracie", "Ch... z gospodarką, ch... z bezrobociem, najważniejsza jest kara za transparent na płocie", "Na stadionach piwo chcecie, a pod stadionem mandat za mandatem. Ciekawe, który browar najwięcej dał w łapę".
Na sever Polska dorazilo 450 "modrých". Předvedli dobré fandění a v 10 minutě společně s domácími opouštějí tribuny.
Górnik Zabrze - Legia Warszawa
Ultras Górniku navázali na svou minulou choreografii "Po ruchach pędzla poznasz prawdziwego mistrza". K výborně provedenému transparentu s výše zmíněným sloganem se objevila velká sektorovka s nápisem "Ultras" a vyobrazeným megafonistou, válečkem, sprejem a štětcem.
V desáté minutě dochází k opuštění tribun a na prázdných místech se objevují nápisy "Trybuna zamknięta na wniosek Donalda Tuska", "Donald stadiony zamyka, więc atmosfera znika" i "Miała być druga Irlandia, a mamy drugą Białoruś!".
Druhá choreografie byla věnována reprezentačnímu trenérovi Smudovi a jeho čachrům s hráči v reprezentaci. K sektorovce s trenérovou podobiznou byly roztaženy dva nápisy "Do kadry zostali powołani", "Wszystkich trzeba wypróbować". Na menších obouručkách pak jména doporučených "hráčů": "Adamiak Felicja, Adamiak Adam, Adamiak Alojzy, Adam Małysz, Adamiak Alicja". Zbylý prostor vyplnily kartony s různymi motivy. V jiné části stadionu se ještě objevil nápis "Nas też wypróbuj!".
Ke konci zápasu se objevují dvě zajímavé prezentace namířené proti Legii. Nejprve byl roztáhnut nápis "Jaka to Melodia?" a notová osnova s zakreslenými notami. Po chvíli notový zápis vystřídalo "Przecież to znacie! Może z nami zaśpiewacie?" . Ke všemu byla zpívána známá melodie, do které si fanoušci již slova domysleli… V samotném závěru ještě bylo ukázány dva nápisy "Jaka jest różnica między Legią a Juventusem?", a później "Juve to stara dama, a Legia to stara...!!!".
27.kolo
Korona Kielce - Arka Gdynia
Domácí se na stadionu neukázali a zůstali po nich jen prázdné ochozy. Před zápasem byla v blízkosti stadionu roztažena nevpuštěná choreografie z minulého zápasu.
Jagiellonia Białystok - Legia Warszawa
Kotel Jagy v rámci protestu bez vlajek a dopingu. Fandění se rozjelo až posledních pět závěrečných minut.
Śląsk Wrocław - GKS Bełchatów
Stadion Śląsku byl zamknutý po zápase v Lublině, kde největší nepřístojností ze strany hostí byly dva ohně na hrací ploše. Pod stadionem se sešlo na pět stovek příznivců a po celý zápas fandili.
Polonia Bytom - Górnik Zabrze
Fanoušci Polonie na tomto zápase fandili a připravili si i choreografii složenou ze sektorovky se slezským orlem na pozadí starých domů. Plachtu doplnily žluto-modré krepáky a nápis na plotě "Kiedyś potęgą, dzisiaj ruiną, każdy familok to przypomina!". V dalším průběhu se objevili i protestní nápisy "Możecie zamykać stadiony, ale nie zamkniecie nam ust", "Puszczają nerwy? Czekamy na stan wojenny". K bojkotu fandění domácí nepřistoupli z důvodu podpory týmu v boji o záchranu lize.
Lech Poznań 1-0 Ruch Chorzów
Modro-bílí stejně jako většina polských táborů nevyvěsila na zápase vlajky a svoje fandění omezili na poslední pětiminutovku.
Wisła Kraków - Cracovia Kraków
Krom úvodní desetiminutovky(bez fandění) byla na stadionu kvalitní atmosféra okořeněná o zisk mistrovského poháru pro domácí barvy. Choreografie ani vlajky na tyčích k viděni nebyli.
Obrazem:
Crvena Zvezda - FK Rad
Sampdoria – Palermo
FSV Mainz 05 - St.Pauli