Dvacáté čtvrté kolo ligového pelotonu se již stalo minulostí a nyní si pojďme přiblížit co se odehrálo na jednotlivých tuzemských stadionech. Při výjezdu na sebe nejvíce upozornili Klokani na Bazalech povedenou choreografií a pyrotechnikou. Solidně se prezentovali i příznivci Sparty v Boleslavi. V domácím prostředí upoutali pozornost Chachaři dalším dílem protestních akcí proti prolhanému představenstvu města. Protestovali také Sešívaní při pondělím zápase v Edenu proti neznámým majitelům Slavie. Nabídneme vám také vybrané zápasy poháru ČMFS, opět zamíříme do Polska a nabídneme dění obrazem z jiných evropských zemí.
Opět vyzýváme fanoušky ostatních klubů, kteří by chtěli v přehledu lépe prezentovat svůj klub(případně kluby které zde nebyli zmíněny), nechť zašlou popisy z jednotlivých utkání na e-mail: pohlednatribuny@gmail.com
Minulý týden se zde objevili nápady ke zkvalitnění rubriky o ohodnocení fandění jednotlivých táboru hvězdičkami. Nápad to jistě zlý není, ale v českém prostředí díky obtížně získávaným informacím ještě dlouhou dobu nerealizovatelný.
foto převzato z www.spartaforever.cz
---
1.FK Příbram – FC Viktoria Plzeň
Diváci: 3.287
Domácí jako vždycky se svým kotlíkem.
Zhruba šest stovek Plzeňských příznivců dorazilo do Příbrami. Na úvod byla roztažena choreografie z modro-červených pruhů, mezi kterými byly roztažena černá plachta s rukou znázorňující V. Další příznivci hostů byli rozeseti na ostatních tribunách. Na zápase také nechyběla pyrotechnika.
FC Baník Ostrava – Bohemians 1905
Diváci: 3.185
Chachaři zápas pojali jako další ze série protestů proti vedení svého města. Prázdná místa na Bazalech zaujaly na dvě desítky transparentů zaměřených proti primátorovi, celé radnici a stěhovaní Baníku do Vítkovic. Dominantní byl pak nápis "Primátor je lhář!" (7x14 m) roztažen na středu ochozů. K vidění byly i další kousky ("Zastavme lháře!", "Prolhaná radnice!", "Před volbami sliby, po volbách výsměch!", "NE!!! Vítkovicím" atd.).
Také v domácím kotli se objevili transparenty reagující na současná témata. Nejprve "Český fotbal pro fanoušky?", "V Ďolíčku obchody" a "Na Bazalech byty". Jako reakce na plány co má vyrůst na místě tradičních fotbalových stadionů. Následně byl připomenut výrok ostravského primátora. "V roce 2013 bude fotbalový stadion stát na 100%" s dovětkem "Primátor lže!".
Nechyběla ani pyrotechnika v podobě dvaceti červených ohňů odpálených na začátku druhé půlky. Fandění baníkovci moc nedali a po docela obstojné první půlce jejich support uvadal.
Do sektoru hostů dorazilo na 200 klokanů. Ti také přidali choreografii k aktuálnímu tématu co trápí oba přítomné fanouškovské tábory. Na plachtě s buldozerem vyjíždějícím z radnice byly válcovány nápisy "Ďolíček", "Bazaly", "Kladno", "Hradec", "Ústí n/L". Ke všemu se objevil výstižný doplňujíc nápis "Vy zkurvený radnice, neničte nám tradice!". Zeleno-bílí také nešetřili pyrotechnikou. Nejprve odpálili žluťáky, červené ohně a nakonec zápasu přidali pyrošou za pomocí žluťáku a zelených dýmovnic. Fandění bylo také na velmi dobré úrovni hlavně v druhé půli. Navíc klokani produkovali support i přes celou přestávku.
Zbrojovka Brno – FC Slovan Liberec
Diváci: 2.277
Příznivci Zbrojovky už neunesli špatné výkony svého mužstva a naházeli na hřiště klubové šály a dresy. To vyvolalo následný konflikt s ochrankou, v kterém byl inzultován jeden z fanoušků.
Za čtyřmi vlajkami se sešlo v hostujícím sektoru přes čtyřicet fanoušků z Liberce. Krom supportu nepředvedli žádnou jinou prezentaci.
SK Sigma Olomouc – FK Teplice
Diváci: 4.721
Ultras Sigmy na zápas připravili na plachtě namalovanou podobiznu zahaleného fanouška Sigmy s agitačním nápisem "Pojeď s náma na Spartu!". Dále bylo viděno několik vlajek na tyčích a klasická olomoucká sektorovka.
V hostujícím sektoru se sešlo 13 osob sympatizující Teplicím. Vyvěsili dvě menší vlajky
FK Mladá Boleslav – AC Sparta Praha
Diváci: 5.000
Domácí na zápase vytáhli menší plachtu s nápisem "Sparto, my jsme Bolka!" a močícím fanouškem Boleslavi na znak Sparty.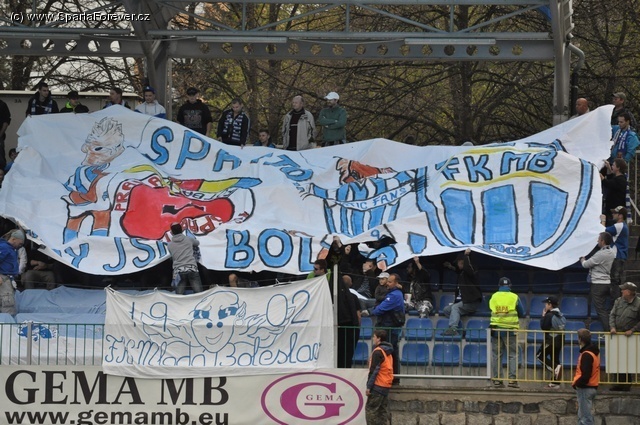 Sparťané vyprodali sektor hostí a další rudí byli přítomni na ostatních tribunách. Po celý zápas bylo vidět hořící pyrotechniku jak v hledišti tak na hrací ploše. Následně jako už v Jablonci byl sektor hostí skrápěn hasičskou hadicí. Ke svému fandění přidali příznivci rudých barev ještě balónky v klubové trikolóře.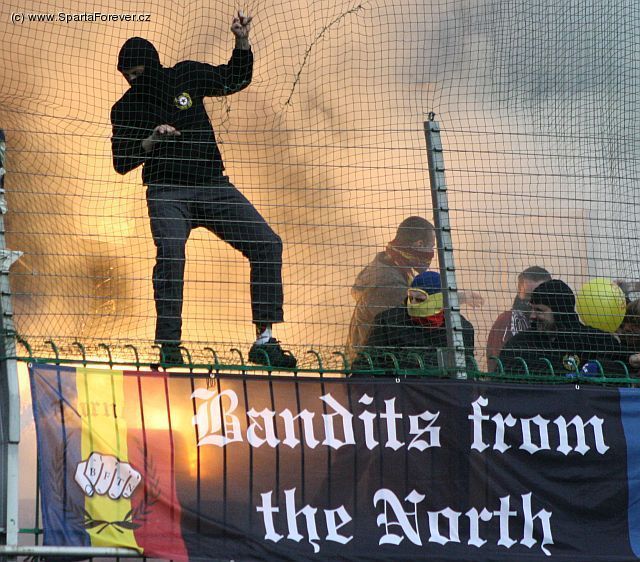 Ústí nad Labem – FC Hradec Králové
Diváci: 805
Jak to na stadionu muselo vypadat je při pohledu na ukazatel návštěvnosti více než jasné:-(.
Zhruba 150 hostí dorazilo do Teplic na zápas s Ústím. Vyvěsili několik vlajek a po celý zápas předváděli průměrné fandění bez jakýchkoliv dalších atrakcí.
SK Slavia Praha – 1.FC Slovácko
Diváci: 5.742
Před začátkem druhé půlky zápasu se přesunula valná část příznivců na stadionu na východní tribunu, postavit se tak čelem neznámým majitelům. Akci podpořili i hráči Slavie, když přiběhli před úvodním hvizdem druhého dějství k sešívaným příznivcům a chytli se kolem ramen. Akci doprovodil transparent "Sešívaní drží spolu".
Následně byla prezentována choreografie v podobě velké červené karty, doplněnou o červené pásy, nápis "Červená karta pro všechny tajemný!" a jména údajných či skutečných vlastníků pražského klubu. Na východní tribuně pak zůstává umístění velmi dobře fandící kotel až do konce zápasu.
Do hlavního města dorazilo přes osmdesát příznivců Slovácka. Kromě průměrné hlasové podpory na sebe výrazněji neupozornili.
SFC Opava – Vysočina Jihlava B
Opavský support doplnilo několik vlajek na tyčích. V sektoru hostí nikdo.
Pohár ČMFS:
FK Mladá Boleslav – FC Viktoria Plzeň
Domácí sektor předvedl jen občasné fandění.
Do sektoru hostí se našlo ve všední den cestu pouhých 33 příznivců Viktorie. Choreografii žádnou nepředvedli, pouze fandili.
FK Teplice – SK Slavia Praha
Tepličtí předvedli asi padesáti členný kotlík s vyvěšenou zástavou, o kterou po zápase na úkor sešívaných přišli.
Něco málo přes sto slavistů dorazilo na Stínadla. Výjezd pojali v recesistickém duchu. Někteří z nich se pokusili dostat na stadion v přestrojení jako ženy, jiní se pak přímo v sektoru vysvlékli do nahoty.
POLSKO:
Górnik Zabrze 0-0 Lechia Gdańsk
Fanoušci KSG předvedli další formu protestu proti odvolání klubového ředitele Łukasze Mazura, když v druhé půli na 10 minut přestali fandit. Krom "tiché" desetiminutovky bylo fandění na vysoké úrovni. Při zápase byly vyvěšeny pouze dvě vlajky a také dva transparenty "Niespełnione rządu obietnice = temat zastępczy kibice" a "Nie liczycie się z kibicami..."
Díky "neexistujícímu" sektoru pro hosty nula hostí.
Wisła Kraków - GKS Bełchatów
V domácím kotli se na první půli chopil role rozeřvávače hráč Wisły Patryk Małecki, jak pod jeho vedením tak i v druhé půlce zápasu bylo support velmi kvalitní. Rovněž byl k vidění nápis "Niespełnione rządu obietnice = temat zastępczy kibice".
Wisła stále nepouští příznivce hostujícího klubu.
Lech Poznań - Legia Warszawa
Okolo 37.000 fanoušků si nenechalo ujít šlágr polské ligy. Ultras Lechu na úvod připravili choreografii složenou z osmi modrých sektorovek( dávající dohromady nápis "Kolejorz"), plachty s klubovým znakem, bílých kartónů a transparentu rozděleného na dvě části "Robię to, co kocham, choć chcą mnie za to karać, nie zrezygnuję z tego!", "Bo w tym jest moja wiara!". Následně prezentaci doplnili dýmy.
Dále se objevila sektorovka s nesplněnými sliby Polské vlády pro nadcházející EURO 2012. Prezentovány byly na plátnu narážky na přeplacenou výstavbu polských stadiónů, nevybudované dálnice, neopravené nádraží atd. Hlavní pak byla narážka na očerňování všech aktivních příznivců v Polsku a rozdávaní zákazů na stadion.. Podobné nápisy bylo možno shlédnout na větši víkendových zápasů. Co se týká fandění předvedli domácí kvalitní support, úplný vrchol to však nebyl.
2287 příznivců Legie dorazilo dvěmi spaciálními vlaky na stadion v Poznani. Velká část příznivců byla oblečena do bílých triček, drtivá většina pak měla bílou čepici a sluneční brýle. Legionisty podporovala také počerná skupina přátel z Pogońi (310 osob). Na úvod zápasu byla prezentována tištěná sektorovka znázorňující polský novinový plátek "Gazeta Wyborcza" s podobiznou Adama Michnika a velkým titulkem "Szechter przeproś za ojca i brata!".
Dále byl v hostujícím sektoru vyvěšen přes vlajky nápis "Niespełnione rządu obietnice, temat zastępczy – kibice!" Konec zápasu ještě zpestřila choreografie "Stadionowi zadymiarze". Kdy bylo výše zmíněné heslo prezentováno na oboručkách, kolem kterých byly rozdány zeleno-červené lesklé kartóny a byla roztažena sektorovka s fanouškem v plynové masce. Následně pak sektor hostu zahalily dýmovnice.
Śląsk Wrocław - Korona Kielce
Fanoušci Śląsku se také transparentem připojili do protestní akce. Mimo jiné předvedli kvalitní fandění po čas celého zápasu.
V sektoru hostí se objevilo na 250 příznivců Korony, bez optické prezentace. Díky hlasitému fandění domácích moc slyšet nebyli.
Widzew Łódź - Ruch Chorzów
Rovněž na stadionu Widzewa se objevil nápis "Niespełnione rządu obietnice, temat zastępczy – kibice!". Zápas se obešel bez choreografie, předváděn byl poměrně kvalitní support, který z velké části provázely družební pokřiky.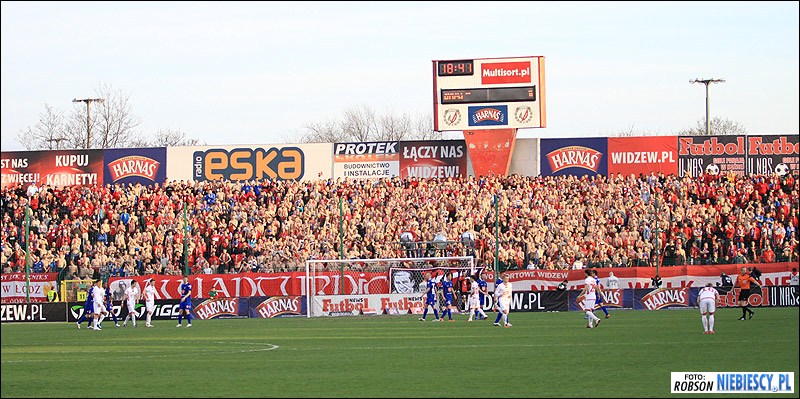 Družební zápas na který dorazilo okolo patnácti set příznivců Ruchu. Vyvěšeno bylo po celém stadionu množství vlajek obou klubů. V druhém poločase se hosté přesunuli do domácího kotle.
Zagłębie Lubin - Jagiellonia Białystok
Při vstupu na stadion byly domácím zabaveny konfety jako důsledek jejich boje s domácím vedením. Problém byl také s pronesením transparentu "Niespełnione rządu obietnice. Temat zastępczy kibice!" . Ten se však na zápase na rozdíl od konfet objevil.
V sektoru určenému pro hosty se sešlo 130 příznivců "Jagy". Stejně jako domácí příznivci prezentovali nápisy "Niespełnione rządu obietnice. Temat zastępczy kibice!".
Warta Poznań - Pogoń Szczecin
Na zápase se díky zadarmo rozdávaným lístkům schází návštěva okolo 18-ti tisíc diváků. K vidění jsou zelené balónky a transparent na plotě podporující Górnik Leczna.
Na 1.150 fanoušků Pogoně dorazilo speciálním vlakem a následným pochodem na stadion do hostujícího sektoru. Upozornili na sebe choreografii složenou z červeno-modrých pruhů s nápisem "Forza Pogoń" a nápisu o stejném znění. Vyvěsili také transparent "Rządu niespełnione obietnice - temat zastępczy Kibice!".
Stilon Gorzów - GKS Katowice
Domácí na zápase vytáhli modro-bílou sektorovku se znakem klubu a siluetami fanoušků a města. Plachtu doplnili lesklé modro-bílé fólie a transparent vyvěšený na plotě.
Do Gorzówa dorazilo 253 příznivců GieKSy, mimo 4 vlajek vyvěsili na plotě již klasický transparent k vidění na většině zápasu v Polsku. Předvedli průměrné fandění.
Ruch Radzionków - Odra Wodzisław
Domácí předvedli na plotě prosvětlený nápis s názvem své ultra skupiny. V tu samou chvíli se objevily v sektoru vlajky na tyčích.
Tři stovky hostů na sebe upozornilo fanděním, transparentem "Ultras Odra Wodzisław" na plotě, ke kterému v sektoru zavlály vlajky na tyčích v klubových barvách. K vidění byl opět nápis "Rządu niespełnione obietnice - temat zastępczy Kibice!".
OBRAZEM:
FC Wacker Innsbruck - SK Rapid Wien
Austria Wien - Mattersburg
Metalac – Zvezda
Hamburger SV - Hannover 96
NH Osijek – Hajduk Split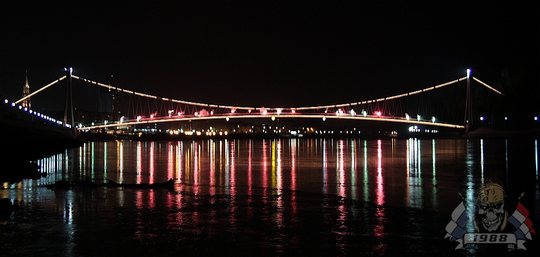 Real Madrid – Barcelona